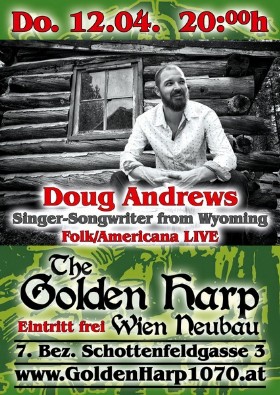 Singer & Songwriter from Wyoming - Folk/Americana
Doug Andrews is used to life on the road. Although he currently lives in Vienna, Austria, Doug has spent the better part of a decade splitting time between his home at the base of the Bighorn Mountains in Wyoming and Vienna. Though the destination changes from time to time, he wins over audiences over wherever he goes.
Doug creates an intimate, expansive, story-telling experience with his music, delivered with a Folk/Americana base coat (echoing his native Wyoming), polished by a smooth, blues lacquer. Rooted in the soul, reflected in humanity. Connecting through the tunesmith vein, Andrews has sponged the lessons left by those before him and continues to expand in depth and breadth himself.
www.facebook.com/dougandrewsofficial